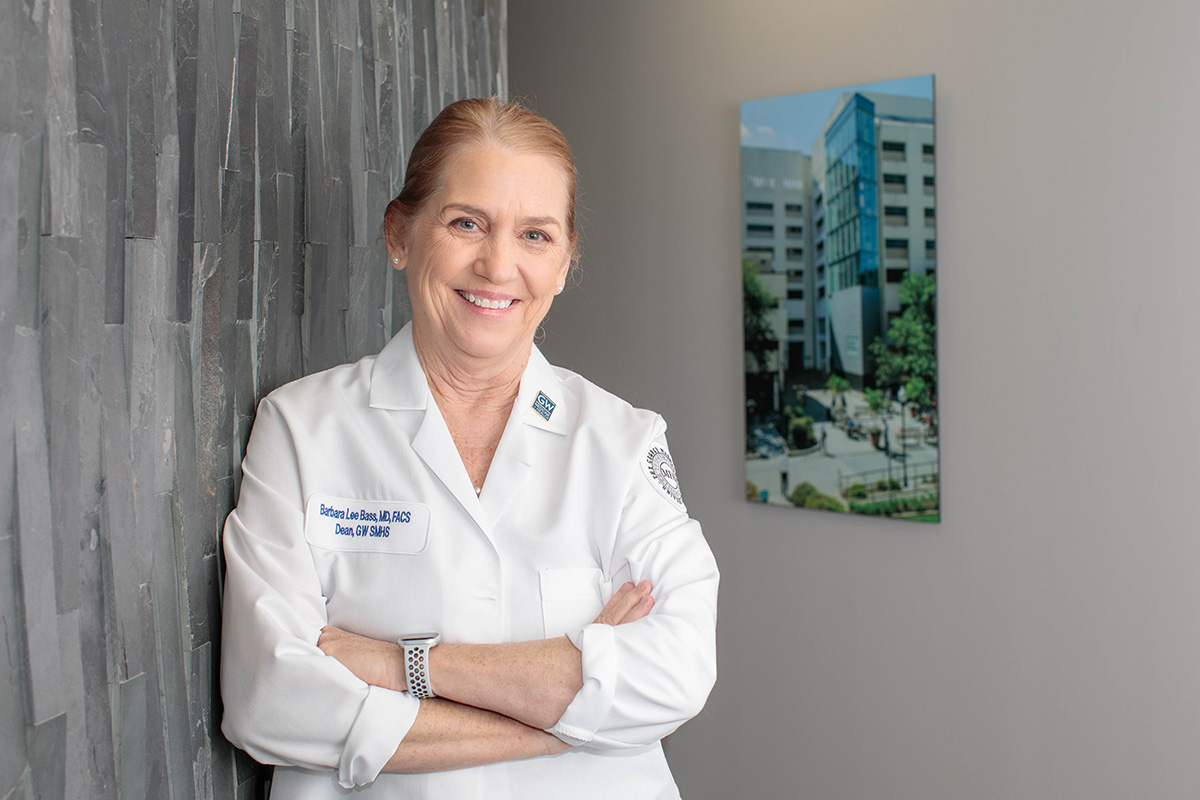 Chief Medical Officer to Receive UVA Distinguished Alumna Award
For her accomplishments as a leader in academic medicine and her efforts to improve the training of surgeons, Dr. Barbara Lee Bass was selected as a Distinguished Alumnus of the University of Virginia in 2022.
Bass, a 1979 graduate of UVA School of Medicine, is the first woman to serve as vice president for health affairs, dean of the George Washington University School of Medicine and Health Sciences. and Managing Director of The GW Medical Faculty Associates.
The Maxine Platzer Lynn Women's Center at UVA established the Distinguished Alumna Award in 1991 to honor alumni whose contributions at the highest level in their fields reflect the spirit of excellence and ethos of service that characterize a UVA education. . The center will honor Bass at an event in the spring.
"With her outstanding achievements as a surgeon, researcher, scholar and leader, Dr. Bass takes her place alongside other School of Medicine alumni who have received the Distinguished Alumna Award," Abby Palko, Director of the Women's Centre, wrote in an email. These recipients are Dr. Vivian Pinn, a 1967 alumnus who was awarded in 1992; Dr. Hallam Hurt, graduate of 1971 awarded in 2001; and Dr. Sherita Hill Golden, a 1994 alumnus who received the award in 2019.
"It is an incredible honor to be the recipient of the University of Virginia's Distinguished Alumna Award," Bass wrote in an email. "The most formative years of my professional life were spent at the UVA School of Medicine – four years of deep and immersive learning and maturation guided by superb physicians, scientists and educators. The core values ​​of service, curiosity , integrity and kindness were instilled in me during those important early years, coupled with the fundamental principles of medical science on which to build a lifetime of learning.
In the late '70s, there were still not many women in surgery, and UVA's chief of surgery at the time was so impressed with Bass that he put her in touch with two of the only female heads of university surgery, Drs. Olga Jonasson and Kathryn Anderson. They became mentors and role models throughout Bass's career, according to his medical school classmate, Tom Newbill, who was active in the UVA Medical Alumni Association.
After completing his general surgery residency at the George Washington University School of Medicine and Health Sciences in 1986, Bass earned a fellowship at the Walter Reed Army Institute of Research while serving as a captain in the U.S. Army Medical Corps.
She joined the GW faculty as a general surgeon and surgeon scientist at the Washington, DC, Veterans Affairs Medical Center.
Bass quickly excelled in research and leadership. Then at the University of Maryland School of Medicine and the University of Maryland Medical System, she served as professor of surgery, director of the general surgery residency program, and associate chair for research and academic affairs.
After joining Houston Methodist Hospital, Bass developed the surgical department there from the ground up. Additionally, she founded and directed the Houston Methodist Institute for Technology, Innovation and Education, a cutting-edge teaching and research center that has conducted training courses for more than 55,000 practicing healthcare providers. She has also held positions at Weill Cornell Medical College, Houston Methodist Institute for Academic Medicine, and Texas A&M University College of Medicine.
In the leadership position of GW since January 2020, Bass leads the academic, clinical and research missions and provides strategic direction on all aspects of the medical business.
Her current interests include computational surgery, health services research and outcome sciences, and clinical trials in surgical oncology, including breast cancer surgery, after two decades of bench research in gastrointestinal biology. intestinal. She has published over 170 peer-reviewed articles, as well as numerous monographs, chapters and books.
"Dr. Bass's career has been defined by her excellence as a researcher, surgeon, educator and professional leader," wrote Dr. David Wilkes, former dean of the UVA School of Medicine, in naming her. "As an educator, you won't find anyone more dedicated to her trainees than Dr. Bass. She has mentored medical students, surgical residents, research fellows, and faculty, and directly contributed to training hundreds of surgical residents, and has been a strong advocate for equity and diversity for women and underrepresented minorities in healthcare careers and academic advancement.
Bass said the UVA Medical Foundation has served her well throughout her career as an academic surgeon, educator, researcher and leader.
"These principles and values ​​have guided my professional life, driving me to serve others and open doors of opportunity so they too can find great joy in their work and grow as leaders with equal voice to make advance our profession while serving our many important missions."
Bass has enhanced her field through national service and leadership, serving as president of the American Board of Surgery, president of the Society for Surgery of the Alimentary Tract and the Society of Surgical Chairs, and most recently as as 98th president of the American College of Surgeons.
Distinguished Alumna recipients include an outstanding group of advocates, public servants, journalists, athletes, researchers and innovators chosen over the past 25 years, including 1992 graduate Dawn Staley, Hall of Famer basketball, multiple Olympic gold medalists and head women's coach at the University of South Carolina; and two winners in 2020 – Nancy Howell Agee, who earned her BSN from the School of Nursing in 1979 and is CEO of the Roanoke-based Carilion Clinic, and School of Architecture graduate Marion Weiss, also in '79, who is co-founder and partner of WEISS/MANFREDI Architecture/Paysage/Urbanisme. (Weiss and Michael Manfredi were also named 2020 recipients of the Thomas Jefferson Medal in Architecture.)
"I am amazed and immensely grateful," Bass said, "to be recognized for simply doing the work that I have loved and been privileged to do, almost every day, for the past 41 years."