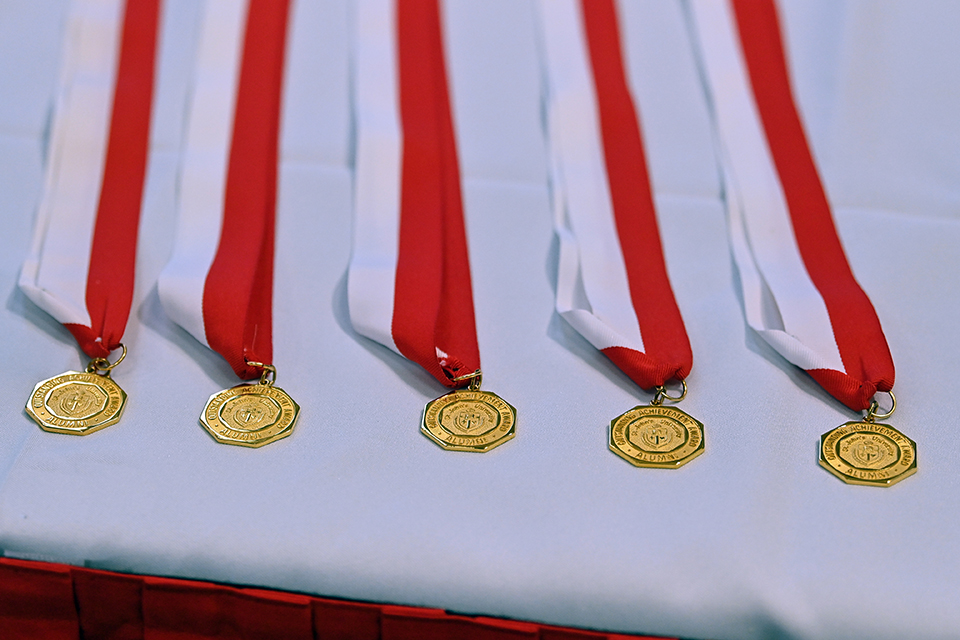 Elder Convocation Honors Generations of Servant Leaders
October 24, 2022
"I think student success is measured more today here than it is by getting them out on time and with jobs, because this is just the beginning of life after St. John's. We educate for life so that our graduates can live meaningful and meaningful lives and make a difference in the world.
These words, of Reverend Brian J. Shanley, OP, president of St. John's, were delivered at the annual alumni convocation held on October 20 to honor 14 notable St. John's graduates who achieved great personal and professional success while not never forgetting their ties to the alma mater. Following the formal program of St. Thomas More Church on the queensNY, campus, a special reception for the winners and their guests was held in the D'Angelo Center. The Convocation was a key event held during Reunion of Saint-Jean,.
"Our success can be seen here today," the father said. Shanley pointed out. "These people lived lives of honor, purpose and excellence. That's what we taught you to do.
Prof. Shanley noted that it is important for current students to see these former students as they are shining examples of what it means to lead a good life. "It is important to us to honor those who make St. John's proud with the lives they have led.
Joseph H. Schwartz '70C, '72MBA, '09HON, recipient of the University Lifetime Achievement Award, spoke at the reception. "The top-notch education and positive values ​​I received at St. John's were essential to my future career success and integral to who I have become as a person, reinforcing the core values ​​that my parents instilled in me," he recalls.
One of those core values, he added, was a strong belief in the power of higher education as a catalyst to uplift the lives of people, especially those who were not economically advantaged. "That is why Bishop John Loughlin of Brooklyn asked the Vincentian Fathers to establish St. John's University in 1870: to serve the poor immigrant population of New York. Today, St. John's continues to serve as a gateway university for a significant portion of its students.
Mr. Schwartz shared how grateful he was to receive a graduate scholarship while attending St. John's. "No one succeeds in life alone. Relationships matter. In life, family, friends, teachers and colleagues support us, inspire us and console us. They help us be better versions of ourselves. Yes, sometimes it takes a village.
"Since my time at St. John's University, I have been inspired by compassion and zeal for the service of Saint Vincent de Paul. I truly believe in providing a great education for everyone, especially those who lack economic, physical, or social advantage," said Weedens E. Blanchard '94SVC, '97MBA, '17Ed.D. the Outstanding Alumni Achievement Medal.
Paul F. Engelhart '82GEd, recipient of the Alumni Outstanding Achievement Medal, said, "In my counseling studies at St. John's, it was emphasized that the people I would help deserved to be treated with dignity and respect. Moreover, in the context of Vincentian values, it was a privilege to serve those in need.
Pietas Medal recipient Barbara A. Hagan '72C said attending St. John's greatly enhanced her spiritual life. "I was a scared young freshman and St. John's welcomed me, helping me become who I am today.