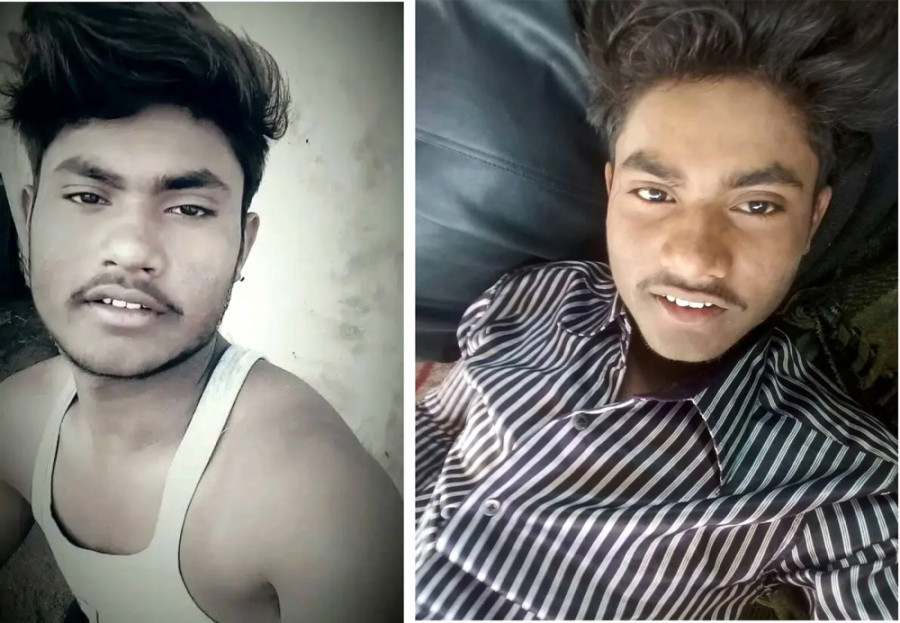 Investigation shows role of prison officials in events leading to death of youth in prison
A new report from a committee formed to investigate the death of a young Dalit at a prison in Rolpa has raised serious questions about Nepal's prison administration.
Sundar Harijan, 20, died in prison on May 18 under suspicious circumstances. They say he died by suicide.
The Investigating Committee discovered that it was a case of an identity swap – that Harijan was serving time for another criminal. It also found that there had been gross negligence on the part of the prison administration.
The executive summary of the report, a copy of which is seen by the Post, says CCTV footage of when Harijan "killed himself" is not available and recommends further investigation by Nepalese police.
Harijan was jailed for cell phone theft by Banke District Court Judge Dilip Raj Onta.
Harijan was sentenced to one year in prison and fined 10,000 rupees for cell phone theft. He was supposed to remain in prison until September 3, 2020. His prison term was however extended until October 8 after he was unable to pay the fine.
Meanwhile, Bijay Bikram Shah was sent to prison for extortion and his involvement in organized crime. He was due to be released on March 6 next year.
But for no apparent reason, Harijan and Shah were transferred to Rolpa prison on November 23.
Then came the twist. Shah was released on January 12, 2021 as Harijan. Harijan continued to be in prison as Shah.
Harijan was found dead on May 18 in Rolpa prison in a suspicious condition.
Earlier on May 20, the government formed a commission of inquiry headed by Jharendra Chapagain, director of the Department of Prison Management, to investigate Harijan's death. The panel submitted its report to Basudev Ghimire, director general of the Department of Prison Management, saying the prison service had no involvement in Harijan's death.
But the Interior Ministry on May 31 formed another committee headed by Surya Prasad Sedhai, co-secretary of the ministry, to investigate the matter.
The Sedhai committee report pointed out that Shah influenced the then acting jailer of Banke District Dipendra Jail Prasad Poudel and Dinesh Kumar Yadav, who worked as a driver for the jail. The panel found that Poudel and Yadav were quite close to each other.
"Yadav, the driver, left for India immediately after the incident," the report's summary reads. "He closed all his contacts, including the phone and his social media accounts. Both Poudel and Yadav appear to have accomplices in the incident.
The panel recommended that Nepalese police carry out a detailed investigation into the activities of Khadka Bahadur Khatri, also a prisoner, who was seen on CCTV footage talking to other inmates after Harijan's death.
"From the details mentioned in the report, it is clear that the officials of the time connected with the prison administration committed serious errors and negligence in carrying out their responsibilities and in respecting the laws, we recommend legal action against them," the report said. "Similarly, we also recommend the immediate implementation of the suggestions of this panel."
The committee used different methods to carry out its study, including field inspection, information gathering and analysis, investigation and analysis of phone calls and details of the incident.
The panel led by Sedhai included Jhanka Nath Dhakal, Director of the Prisons Management Department, Nepal Police Superintendent Bhupendra Khatri, Deputy Director of Investigations of the National Investigations Department Bishwamani Acharya and an administrative officer from the administration office of the Banke district.
Its members also met with Shah, who is currently serving a sentence in Barabanki district, Uttar Pradesh, India, for drug trafficking, through unofficial channels.
Shah had told the investigative team that Harijan might have committed suicide after Khadka Bahadur Khatri, also known as Tora Bora, and Prakash Budha tortured him to return their money. The report does not contain details of the money Shah is referring to.
The panel recommended action against those who decided to transfer Shah and Harijan from Banke to Rolpa, saying they failed to perform their duties properly.
"I can't say anything about the report because there are very sensitive security issues," said Surya Sedhai, co-secretary of the interior ministry, who led the investigative group.
The Sedhai panel was asked to submit its report within seven days from the day it started its work. The panel delivered a report to Interior Minister Bal Krishna Khand on Tuesday.
After receiving the report, Khand said he would implement the report's recommendations.
According to another co-secretary of the Interior Ministry, who wished not to be named, the recommendations of the inquiry panel will be implemented gradually.
He said the panel made many recommendations, including prison administration reforms and management of physical infrastructure, keeping proper records of prisoners with their clear identification to ensure that such incidents of exchange of identity do not recur in the future.
The National Human Rights Commission has also formed a separate investigation group. A report is pending.
The National Dalit Commission, however, said that despite wishing to investigate on its own, it could not do so due to a lack of funds.
"We wanted to send an independent panel to investigate the young Dalit's death under suspicious circumstances in the prison. But we couldn't do it," said Devraj Bishworkarma, chairman of the Dalit Commission. "We couldn't manage the funds for the probe."
Legal experts say the government should come up with a new legal provision to control crimes related to prisoner swapping because it could also happen in the future.
"Since this is a new type of crime in which prison officials appear to be involved, a separate law should be enacted to combat these new forms of criminal activity," Balaram KC said, former Supreme Court justice.
KC said the government must form another independent commission of inquiry headed by a sitting High Court judge, as this is a serious matter in which all state machinery appears to have been implicated in the death of a young person.
"The state is the guardian of the basic rights of its people," KC told the Post. "The concerned jailer must be punished and the state must issue a public apology to the people and form an independent commission."