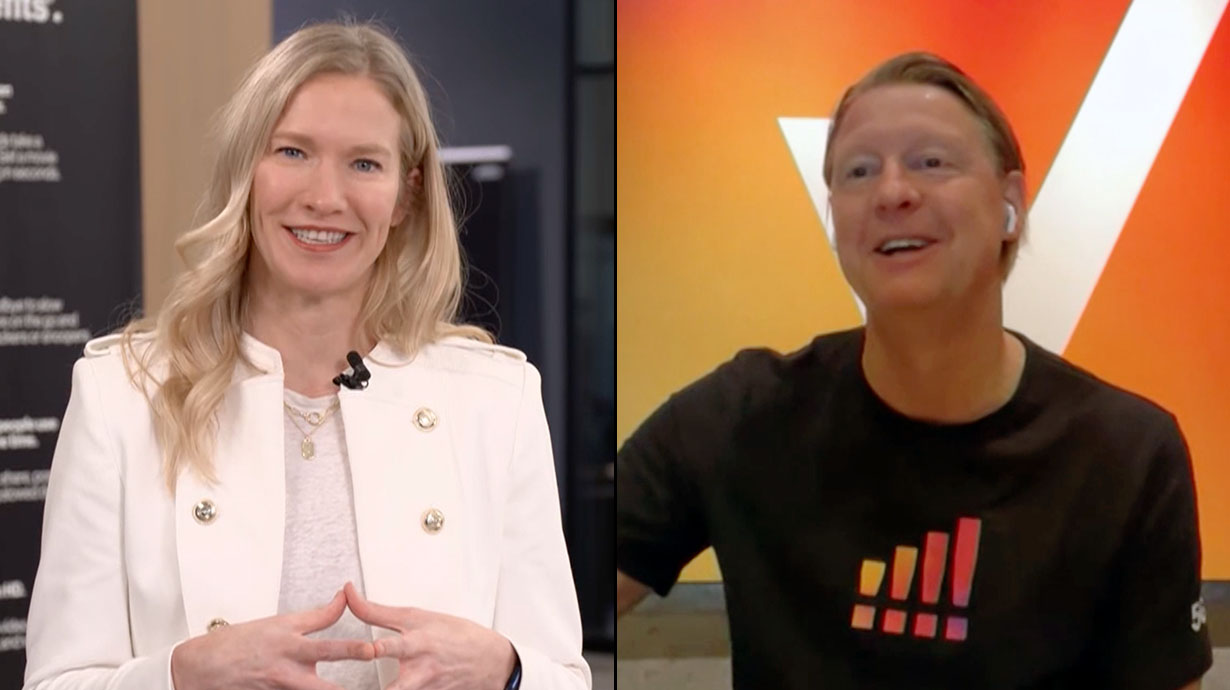 Looking forward. | About Verizon
Happy Valentine day! On today's episode of Up To Speed ​​Live, host Diana Alvear, CEO Hans Vestberg and Human Resources Director Sam Hammock shared the following updates:
Opening speech
Hans highlighted the continued expansion of our network. We recently announced that we now provide more than 30 million homes and more than 2 million businesses with the ability to access reliable and fast plug-and-play wireless broadband services nationwide.
"It's a moment we've all been waiting for," said Hans, who also thanked the entire V team and expressed his excitement for what's to come.
As Black History Month is in full swing, Hans thanked the members of our BOLD Employee Resource Group and reinforced the exciting events and activities they have planned. "Diversity and equity are part of our core values."
Go forward
Hans added that making the most of this transformative moment in 2022 is key to building an even stronger workplace culture and workplace through initiatives such as Go forward.
As Sam pointed out, when we first presented Go forward, the goal was to bring together the best aspects of remote and on-site work to transform how, where and when we work. While we had been operating in our new ways of working for some time, there was an element of Go forward that we still have to activate: the hybrid routine for our American V Teamers.
Update Go forward timelines for hybrid plans
Starting in March, we'll be inviting our hybrid V Teamers to the US to test out their office routines. This is the perfect opportunity for team members to experience the cadence of entering the office and adapt as needed.
As we look to test our hybrid plans at this time, be sure to connect now and in the coming weeks with your leaders and teams to align expectations that maximize clear value to come to the office. This will help you establish a published schedule to help you plan how and where you will work to support your productivity and overall well-being. It needs to align with the cadence you've discussed with your leaders as teams continue to train and adapt.
Also in March, we will be hosting a few social times at select workplaces for team bonding experiences. This will include tours for our new hires, on-site volunteer opportunities and more.
Remember the following:
When you enter the office, you must certify through the RTO tool and use Book A Space to reserve seats and check in upon arrival.
Follow best practices for inclusive meetings, such as bringing your device into the meeting so those not in the room have an equal experience.
Keep using tools like Slack to connect, collaborate, and have fun too.
Beginning April 4, we will officially activate our US hybrid plans, and V Teamers will follow the office cadence they set with their manager.
We expect our schedules to be flexible. In fact, the intention of our model is to be flexible to the needs of V Teamer.
For more details and recommended best practices for hybrid working, watch the full video above and connect with your leaders and teams.
Unionized and international employees
Nothing changes at this time for our associates working from home; any changes would be discussed with the unions. For our international teams, Go forward updates will be communicated location by location.
COVID-19 protocols
The health and safety of our V team is and always will be the top priority. We will follow the latest data and recommendations from the CDC, WHO, and local guidelines.
Discover our RTO tool and Go forward site for the latest information. We maintain our current policy on masking, i.e. wearing a mask:
If unvaccinated, at all times, except while eating/drinking at a distance
If vaccinated, indoors and unable to distance
Regardless of vaccination status, at the point of sale at all times
Create an inclusive environment
Our site and home workers work in Go forward for some time. Now more than ever, we need to embed our principles of distributed working to effectively engage and include all employees, regardless of their work model.
Final Thoughts
Sam and Hans concluded by recalling that Go forward is our opportunity to advance and strengthen our culture and create an even better experience for all V Teamers.
Sam emphasized that the team is committed to continually learning from each other and gathering feedback.
You can share your thoughts and questions on Ask HR or use the Go forward Soft channel.
VZPulse
Speaking of feedback, today is the last day to take the VZPulse survey. Your point of view matters. Go forward was created based on employee feedback, so take a moment and have your voice heard!
The Return of The Cable Guy
Diana shared 90 second version of our spot featuring Jim Carrey which premiered shortly after halftime of the big game last night. The announcement showed America the benefits of switching to Verizon's Home Internet and Business Internet.
SoFi, it's alright
Speaking of gaming, the fan experience MVP in SoFi Stadium had to be our network team. Thank you to everyone who participated in the tremendous performance of 5G.
If you have any questions, email them to [email protected]
Click here for a transcript of the webcast.