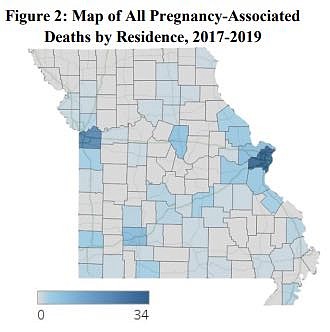 Obesity and health inequalities continue to affect maternal mortality
Again this year, a report on maternal mortality details the role complex societal issues of endemic obesity, health inequalities and the opioid epidemic play in keeping pregnancy-related death rates high. in Missouri.
The Missouri Pregnancy-Associated Mortality Review Board's annual report, using data from 2017 to 2019, found that 75% of pregnancy-related deaths were preventable. And all pregnancy-related deaths from mental health issues have been deemed preventable.
By law, the Missouri Department of Health and Senior Services (DHSS) is required to submit a report to the board, which is responsible for examining the causes and contributing factors associated with maternal mortality and determining the interventions that can prevent deaths. The report can be viewed at https://health.mo.gov/data/pamr/pdf/2019-annual-report.pdf.
The council considers demographic factors, including age, race and education level. The council assesses places of residence, health insurance coverage and body mass index. He keeps in mind that correlation does not equal causation, but that comparing ratios helps "determine the degree of disparity in health outcomes between each group," the report says.
The report examined the circumstances surrounding 185 women during the period who died during pregnancy or within a year of pregnancy. The average was 61 Missouri women who died each year. The highest number recorded was 68 in 2018.
The report warns that the figures used represent a small part of the population, so there is an increased likelihood that the results will be "biased". and some effects may be exaggerated, while others remain hidden. The report also proposes a three-year ratio that can prevent "asymmetry".
"While it is vital to analyze these deaths on an annual basis," the report's summary states, "the goal of this multi-year report is to provide a more complete picture of maternal mortality in the state."
Among the council's key findings were:
• The greatest proportion of pregnancy-related deaths occurred between 43 days and one year after pregnancy, with mental health issues being the leading cause of pregnancy-related deaths (followed by cardiovascular disease).
• The most common cause of fatal injury for pregnancy-related deaths was overdose/poisoning.
• Substance use disorders contributed to 32.7% of pregnancy-related deaths.
Seventy percent of deaths were pregnancy-related and unrelated (meaning they occurred from any cause during or within a year of pregnancy). The most common cause was poisoning/overdose (33.9%), followed by motor vehicle collisions (30.4%). The report states that substance use disorders contributed to 44.4% of pregnancy-related and unrelated deaths.
The review board report recommended four actions the Missouri legislature could take to reduce the maternal mortality rate.
He recommended that the legislature fund perinatal quality collaboration by 2023. Several states have these networks of teams that work together to improve the quality of care for mothers and babies. Several states participate in multi-state networks. For example, California uses a "mentorship model" in which 20 pairs of nurse and physician mentors, experienced in quality improvement, supported and mentored six to eight hospitals.
The Legislature should establish and fund a statewide Prenatal Psychiatry Access Program to help health care providers provide evidence-based mental health care, including treatment for related disorders. substance use to women in Missouri.
It should extend Medicaid coverage to one year postpartum for all conditions (including medical, mental health and substance abuse disorders), even if the woman did not start treatment before giving birth. This would help women whose condition is exacerbated by the postpartum period, according to the report.
The report recommends that health care providers receive ongoing education on screening, referral, and treatment for mental health issues, substance use disorders, and cardiovascular conditions during and after pregnancy.
Providers should also perform a comprehensive assessment for depression and anxiety, using standardized and validated tools at least once during the perinatal period (as a baseline), once during the comprehensive postpartum visit (and add additional screenings, if necessary). Providers should do the same for substance use disorders. According to the report, they should refer them to behavioral health professionals, social workers, community health workers and treatment programs, as appropriate.
All healthcare workers should undergo trauma-informed care training and implicit bias training at least once a year.