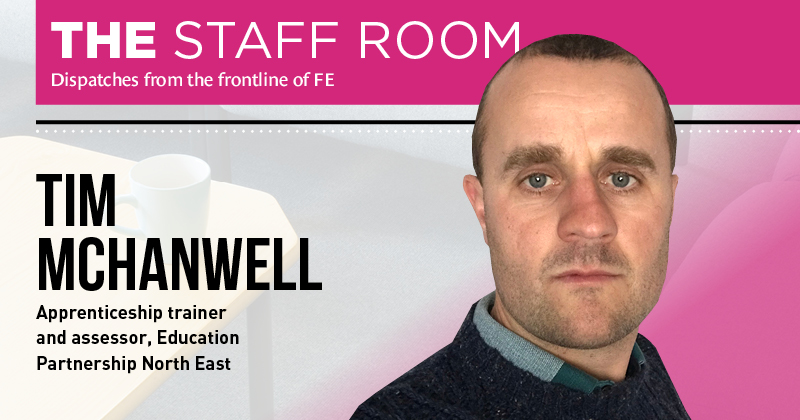 Paperwork threatens to take over the job I love
If all documentation does not benefit the apprentice, why is it necessary? asks Tim McHanwell
I'll start with the most important point: I really, really love my job. I like working with apprentices, accompanying them and helping them to progress.
The most enjoyable part of the experience is spending time with apprentices from various backgrounds and working with them to develop their knowledge, skills and understanding.
These may be young apprentices who have moved away from classroom teaching and have not always thrived in teaching. It's very helpful to work with them because you re-engage them.
We are helping to facilitate this transition to an apprenticeship with employers like the NHS where there are good opportunities for career advancement.
Then there are the apprentices who may not have been in school for 10 to 15 years. They can be motivated, but sometimes lack self-confidence. A lot of these apprentices will get to a point where they say "I can't do this", and it's a challenge to get them through.
When they do, it's really rewarding. Many of them progress to higher level qualifications which allow them to be promoted.
Again this week I had an older learner who was very anxious about her final assessment. So I went to see her, I sat with her for an hour and a half and I showed her that she was ready.
There is enormous value in being fair with someone. That takes time.
But in the ten years that I have been a trainer and evaluator, paperwork has become a more important part of the job.
It is not specific to my college, as it is a system wide issue. I and my colleagues are spending more and more time writing about what we're going to do, instead of doing it.
It was a "mission runaway" scenario. Each year we have a little more to record. Every year new funding rules emerge and new things need to be documented.
Each year we have a little more to save
Of course, I'm not saying the documentation is bad. In fact, it can be very important. Maybe ten years ago, we weren't documenting the things we should have.
It is important, for example, that apprentices can see on paper what they will do in the next session. It is helpful for them to see what I have written in the "actions" section of their portfolio, so that they can follow this.
But there are things that we now need to document for verification purposes that are not of clear value to the apprentice. I think the amount that needs to be documented has shifted too much in the other direction.
Spending time filling out forms can reduce the time we spend on the most enjoyable and important part of the job – working with the learner.
Sometimes you feel like you have to hurry when working with a learner just to do the paperwork. You think, "If I don't record it now, I won't have time to come back to it."
This can cause problems as the paperwork can start to pile up. I'm also a Unison union rep, and I know people who think they have to work overtime just to get everything done.
An appraiser needs time to plan and come up with creative solutions, and that time simply disappears. This may give staff the impression that they are not supporting apprentices as well as they would like.
So how do we solve this?
First, we need to review what we document and why. I think we should focus on documenting the things that make a difference to the learner.
Trust the professionalism of the staff and their commitment to do the best for their apprentices. Who am I writing this for if it doesn't help the learner?
Second, it is about funding. If the Education and Skills Funding Agency gave more money to each student, then each staff member wouldn't have to hire as many apprentices.
This in turn would reduce paperwork and stress.
If these changes can be made, I can continue the job that I love.