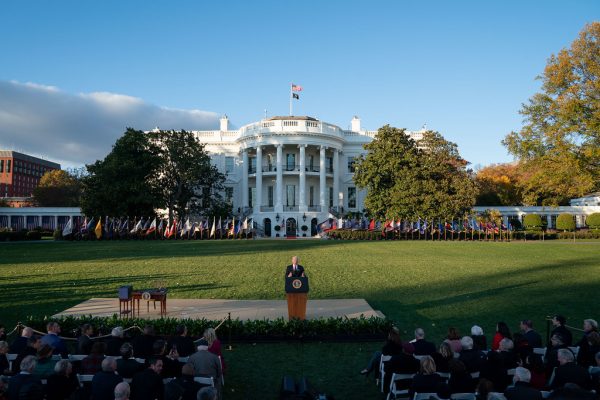 Prelude to a "Biden Doctrine"? – The diplomat
Sometimes it's helpful for US presidents to have doctrine, as they help guide policy and refine both strategy and messages. Former President George W. Bush clearly defined his presidency on the doctrine of "either you are with us or you are against us", opening up space for unilateral military action. Barack Obama struggled to overcome foreign policy obstacles in the Middle East and North Africa and failed to implement his the "pivot" foreign policy towards Asia. Donald Trump's attempt to establish an "America First" doctrine was at best a display of scattered views.
Almost a year after the start of the Biden administration, there is little evidence that the 79-year-old president can fully develop and operationalize a post-Trump era in US foreign policy. Biden is famous for his blunders, as well as delivering a litany of statements that must be returned. There is a real need for a disciplined reset. America is entering a winter of uncertainty with a number of unresolved crisis points – particularly in the Indo-Pacific.
The complexity of the Indo-Pacific requires the United States to compete, project its might, and establish a viable agenda for the region. Options for Indo-Pacific actors without US leadership may present a choice of Hobson, with China dominant by default. In equally important spaces of defense, human rights and commerce, the regular presence of the United States in the Indo-Pacific is vital. While Biden does not appear to have framed U.S. foreign policy around these core areas, there is one emerging area that is important.
The promotion of democracy as a doctrine could make a comeback. Biden's choice of invite Taiwan to its "Summit for Democracy" on December 9 and 10, they both angered China and sent a signal to authoritarian regimes that "like-minded" countries should unite to resist autocratic tendencies, promote human rights and fight against systemic corruption. Biden's decision to invite Taiwan may seem controversial, but in reality it remains one of Asia's most successful democratization stories. Taiwan's transition in the 1990s from an authoritarian regime to a representative democracy was one of Asia's few successes. President Tsai Ing-wen, in a recent room for Foreign Affairs, wrote that the fall of Taiwan would be "catastrophic for regional peace and the democratic alliance system" and would point out that "authoritarianism [would have] the upper hand on democracy.
President George W. Bush was extremely inconsistent in his policies towards Taiwan and bowed to Beijing for a 2003 referendum on national security issues. He even criticized former President Chen Shui-bian for organizing the referendum against Washington's advice. Earlier, however, he promised to defend Taiwan if attacked by China. Obama was quick to heed the "One China" status quo, and warned Trump of the consequences of upsetting him. However, Trump resorted to Taiwan as a weapon in its ideological confrontation with China. Over the past 20 years, China, Taiwan, and the United States have all evolved in very incongruous ways. These developments call for changes and consistency in the American approach. Promoting democracy would be a welcome plank of a potential Biden Doctrine, especially in the Indo-Pacific.
Biden's push for Taiwan's inclusion comes after a new round of Chinese political and diplomatic pressure on Indo-Pacific states to reassess their bilateral relations, preferably orienting them towards Beijing. Biden's choice also sent a strong signal to the coup-happy Thailand, whose Foreign Minister Don Pramudwinai brushed off the event by "purely political". On the other hand, Singapore, which was also not invited, remains a vital partner in the region, and has been the centerpiece of Vice President Kamala Harris' project. visit to Southeast Asia earlier in the year.
However, can democracy promotion really be a major part of a Biden Doctrine, especially in the Indo-Pacific? America should not restart democracy promotion because of a purported economic advantage, or the Bush-era notion that this would bring stability to the region, but because citizen empowerment, framed by political and human rights, is preferable to any other system of government.
In Southeast Asia, the list of countries in crisis with populations at risk is tragically long, as denied, postponed and suppressed democracy is still a reality in almost all of Southeast Asia. Thailand's repressive crackdown on pro-democracy protesters and human rights defenders is now well known. While the time may have come for the United States to champion democracy promotion, the lingering fear is that the push will lead to a similar outcome to 2014, when the regime increased its alignment. with China.
While it may be inevitable, it raises the question of how much leverage is left in the United States. The contradiction here is worrying. A dominant China offers a competing ideological message that democracies fail to deliver and are in decline, and they don't have to go far to find proof. These competing narratives have dangerous consequences for the Indo-Pacific. Failure to engage and defend democracy challenges the post-war rules-based order.
Of course, there are limits. Unlike Britain, the United States has been ineffective in promoting democracy in Hong Kong, engaging only in rhetoric and Trump-era legislative action, but did little to upset the status quo after the National Security Act passed in June 2020. The reality is that America, even with a renewed push from Biden, no longer has economic or political clout to affect significant change in Hong Kong. The absorption of Hong Kong by mainland China is almost complete, as it has become China's main trading partner, far ahead of Europe and the United States. Failure to grasp this fact assumed that Hong Kong was some sort of immortal golden goose and ignored China's deep desires to correct a century of humiliation by the West.
Back in Taiwan, abandoning a democratic state would only deepen the narrative that America is retreating. Should Biden articulate that a Chinese military takeover of Taiwan is not possible without the specter of an open confrontation of US military might? The answer should be an emphatic yes, and should equal both the armament of Taiwan and the guarantee of US naval capability. Protecting Taiwan means protecting decades of democratic maturation and advancements in human rights. Taiwan was the first country to pass a law legalizing same-sex marriage. It is a leader both in terms of strength of its civil society and direct, people-centered democracy.
Besides South Korea or Japan, Taiwan deserves a special place on the pedestal of democracy in Asia. Failure to stand up for these achievements would seriously undermine America's credibility and core values, and confirm Beijing's narratives of democratic decline and an alternative, more autocratic path for hybrid states in the region.
In conclusion, what cannot continue is a Biden administration looking for a raison d'être in foreign policy. The elements of this logic are traditional and lasting: the promotion of democracy and the defense of self-determination. While this may not be the time for a grand, comprehensive foreign policy doctrine, there must, however, be an unequivocal articulation of core American interests. Democracy matters.