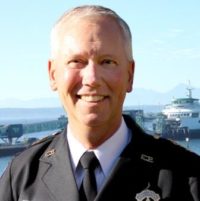 Retired Edmonds Compaan Chief of Police Honored by State Sheriffs and Chiefs of Police Association
Retired Edmonds Police Chief Al Compaan was recently awarded Washington Association of Sheriffs and Police Chiefs (WASPC) "life membership" status at the group's awards banquet on November 17. .
Compaan retired on December 31, 2019 after 41 years with the Edmonds Police Department, including 12 years as Chief.
According to the WASCP website, a life member is someone who has rendered outstanding service to the organization and "who has distinguished himself by an act or acts in the name of the purposes or principle of that organization."
Compaan was nominated for the award by the Chiefs of Police of Kennewick and Des Moines, and the Sheriffs of County Clallam and County Chelan.
Among the achievements noted were Compaan's efforts to recruit and hire over 60% of EPD's commissioned and combined support staff, with particular emphasis on EPD diversification; its facilitation of the development of a renewed EPD mission statement and core values ​​statement; his work with elected officials and staff on consolidating two 911 centers into one Snohomish County-wide center; and his involvement in various leadership roles, including serving as WASPC President, as a board member of the Snohomish County Multiple Agency Response Team (SMART) and Group Snohomish Regional Drug Worker, and Chairman of the Board of Directors of Victim Support Services, a non-profit that provides peer support and advocacy for victims of crime.
"I am touched, honored and grateful for the opportunity to have served in the law enforcement profession for over 41 years," said Compaan. "I am very grateful to the men and women of the Edmonds Police Department who have supported me during my 12+ years as Chief. I am proud of each of them.
My Edmonds News
Sign up for our daily Edmonds newsletter