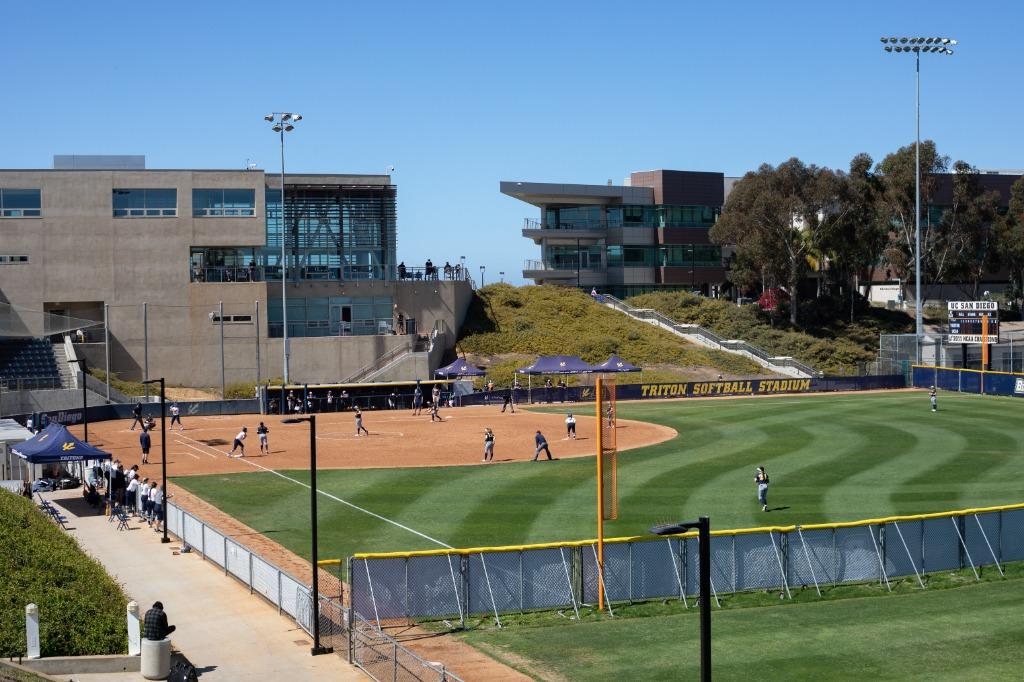 Sporting Director Earl Edwards on Division I and a UCSD 'Renaissance Period'
[ad_1]
While UC San Diego officially became a Division I athletic program last season, long-standing plans for the transition have been marred by the COVID-19 pandemic. With a full first season in DI coming up, The UCSD Guardian spoke to athletic director Earl Edwards, who saw the Newts move from a D-III program to DI during his 21-year tenure. The transcript of the following interview has been edited slightly for style.
Obviously, the fact that this first year in Division I was plunged into chaos by the pandemic must have been a big disappointment. How did that come about in a transition you've been planning for years, and how have you tried to manage it?
Well, I'm going to move on to one of our core values, which is resilience and dealing with adversity. So we clearly had to switch to this mode. It was – I'll just be blunt – it was very disappointing to be in a COVID environment, especially with the fact that we had to cancel a number of our fall sports so they couldn't. to compete.
On the other hand, we used that time to prepare our athletes, in terms of conditioning and training, and they were allowed to compete in the spring, so they were able to get something out of it. I like to look at the first year as an asterisk year for us, because it was so different. In fact, I think it's different, that it worked somewhat in our favor as we didn't have full competition in all areas, but yet the year still counts for our [Division I] reclassification, so it was good in that sense.
And finally, although it was a challenge and we were disappointed, these sports that we participated in, we were very competitive. So it was good to see that we are in the right league and that we will be successful as we move forward.
Does that kind of false start with the move to Division I shift some of the attention to this season, and what plans are underway to give UCSD athletics the more appropriate inauguration than she deserves?
The reality with COVID is, like I said, it was an asterisk. So this is the real year when we can get the word out on campus and in the community. So you'll see a lot more marketing on UCSD in Division I both on and off campus, and that marketing is quite extensive.
We've been reaching out a lot to the community and to the students as well, so we'll see that used. This year, we will still have vestiges of the COVID environment where we may have to limit fans, but the idea of ​​fans being able to attend contests will make it seem like it's really the first year. I'm actually glad we kinda got our feet wet this year, we know more [about] What to expect. We also have new recruits who have come with us in Division I, so I expect us to be a lot more competitive in the Big West Conference.
Now that UCSD is in Division I, there are no more levels to climb. If the objective is now to be a sports brand recognized as a [University of Southern California], UCLA, UC Berkeley, what's the plan in the next five, 10, 20 years to make that happen?
Well I have to make a clear distinction that when you talk about Division I there are basically two different levels. And when you say Berkeley, UCLA, USC, these schools are all football schools, and they attend Power 5 conferences. So they will continue to get much more national recognition. Our goal would be to be very successful in the Big West Conference, that is, to compete regularly for the championships. Having said that, this is not a football conference, so you don't have the same visibility. But I will say that when we are successful in certain sports, basketball, baseball, volleyball, soccer, for example, we will always have that national exposure.
Until then, whether we win championships or not, because we have the capacity to produce games on ESPN +, where we'll be on that national stage somewhere between 150 and 160 times with various sports throughout the year, I would expect that we'd get a lot of national recognition because of it – not just for the athletic piece, which is obviously important to us, but also for the kind of institution UC San is. Diego. I like to describe ourselves as a public Ivy, and one of the things that is great about Division I and being on TV is that we get to be able to tell the UC San Diego story at the -beyond athletics. So over that five to ten year period, I expect to be on the national stage competing for championships in various sports, and again, although we are not in the realm of championships, this as I think we will be, we will have this the national television exhibition and the local exhibition going forward.
The move to Division I isn't entirely without controversy among the campus community, especially for people who aren't going to watch athletes. What do you think Division I brings to a school like UCSD, other than better sports?
Well, we've talked about it a bit, that branding or national exposure is a big thing, because – at least that's my experience – the reality is that there isn't a lot of folks east of Mississippi who know UC San Diego, so the brand is a big chunk. The other aspect is when you look at our campus, the fact that we have seven colleges, although it's a good thing in terms of the tight environment within a large university, it also tends to provoke more separatism than you might find in other schools. Athletics would therefore clearly be a way to bring everyone together as a university.
The third thing I would like to mention is that the spirit of the school, Newts, Blue and Gold, is not something that has been a big part of UC San Diego in the past. The spirit of the school would therefore be greatly improved. I would also add that when you look at the engagement or the connections from the alumni, the alumni that are on the east coast who can watch UC San Diego compete, that kind of connection is really important for most universities. And then I would also add that you are more likely to improve giving to the university through an athletic program that has national exposure.
When you look at the community, not just the campus – and I've seen it happen before – the community of San Diego, the fact that we are in Division I and now we are competing with it. [University of San Diego] and the state of San Diego, we have become higher or connected to the community. I am confident that with this move to Division I, we will have a lot of individuals coming to campus to attend a sporting event, and in doing so, they will find that there is a lot more to campus. So that paves the way for the community as a whole. So when you put all of these things together, the culture, the alumni engagement, the pride of the school, the donations, these are the things that moving to Division I will improve and improve things dramatically.
You have seen UCSD move from a D-III program to a DI school over the past 21 years. What do you think are the biggest changes you have seen in Triton athletics during this time, and how do you think the program will change in the future?
That's a really good question, because when you look at the athletics transition from [Division] III to II to I, there are many parallels with the evolution of the university as a whole. When I think we're Division III, I think we were somewhere in the neighborhood of 13 to 16,000 students; we went to division II, we jumped into the 20s and 30s, and as you know overall between undergrad and graduates there are around 40-41,000 with around 36,000 undergraduates, so just the growth of the campus as a student population has been huge.
And then when you look at the campus, in terms of new facilities, we have seven colleges, a new sixth college, the learning commons, the streetcar that will run through our campus… Actually, I would like to describe where we are now, with Division I and the building on campus, like a time of rebirth. If there is someone who graduated here 10 to 12 years ago and comes back to campus, they would be blown away by the growth. At the same time, we continue to achieve national recognition for our academic prowess, with Nobel laureates and many different prizes.
So it was fascinating for me to see this growth, and to be a part of that as a sports department, it was only fitting that we were competing at the highest level. It has been an extremely exciting time, and I can't believe all the things that have changed in a very positive way. When you look at the fact that we're only 61, we're really a baby when it comes to universities, but we've had a major impact on every level. And that excites me for the future, because if we've done all of these things in just 61 years, I wonder what we're going to look like in the future.
Image courtesy of Scott Flanders / UC San Diego Athletics
[ad_2]