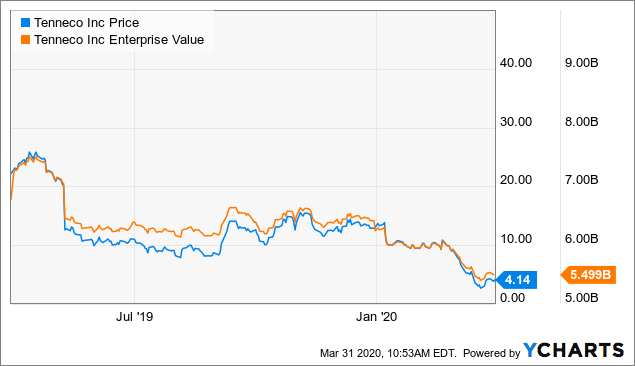 Too much debt at Tenneco (NYSE:TEN)
Tenneco Inc. (NYSE: TEN) did not have a good year. The debt-ridden company has seen its net worth suffer significantly in recent months as the coronavirus-induced economic recession takes hold. TEN is too leveraged and its stock value is unlikely to rebound significantly in this environment. Investors should avoid common stock of this auto parts company.
too much debt
The reason this $350 million market cap company is unlikely to rebound comes down to one factor: TEN's leverage. The management team was obviously heavily focused on this factor even before the current economic crisis set in. According to TEN's corporate presentation in February, key 2020 targets included cost reductions of $200 million more than previously expected, capital efficiency improvements of $300 million and more and a repayment of the debt. Of course, the current macroeconomic crisis has made these goals difficult to achieve.
Source: Presentation of TEN Q4 2019 results
Before the world changed, I believed in management's expectations for positivity in adjusted free cash flow for fiscal year 2020. However, I find that an unlikely outcome in the new environment in which we operate.
While TEN had $1.5 billion in cash at the end of the year, debt of almost $6 billion will weigh on the company in absolute terms. Net leverage ratios will increase as the denominator of EBITDA becomes smaller. Fortunately, the company has increased its maximum leverage ratio to 4.5x through the first quarter of 2021, but that may be too little to address the issues that will arise this year if a continued "depressed demand" environment continues. Sales of assets at less than favorable prices may have to take place as a result. Although I haven't delved into competitor fundamentals, I would look to competitors such as Dorman (DORM) and Standard Motor (SMP) rather than investing more in TEN in the near term. I note that both are much less leveraged and in this environment strong balance sheets are a sign of quality to me as a potential shareholder. The market also seems to appreciate this, as the share prices of these two companies have held up much stronger than those of TEN on a YTD basis.
In light of a disturbing picture of demand for auto parts sales in the United States in 2020, TEN's fate is sealed. Travel restrictions across the country will result in reduced vehicle mileage, which will reduce overall demand for the types of vehicle parts sold by TEN. Rising unemployment and supply chain disruption are also other major negative factors. Obviously this affects many companies in the automotive supply chain, not just TEN, but the debt situation at TEN is among the most dire. TEN achieved adjusted EPS of $3.22 in 2019; I expect full-year 2020 EPS to be well below that. Keep in mind that the company is exposed to the Chinese secondary market, so revenue will be hit on multiple fronts.
From a valuation perspective, the same reason why companies heavily exposed to secondary market demand are trading at premium multiples as pure OE companies will unfortunately mean that the current contraction in multiples is likely to remain in place until economic demand normalizes. TEN bulls were hoping for a separation of the company's OE business (about 73% of EBITDA in 2019) and aftermarket business (about 27% of EBITDA in 2019). This separation may now be pushed back a year or more as the company waits for market valuations to rise again and reap the full value of such a corporate reorganization. In my view, the bullish case for TEN has become much weaker as the time frame for such a catalyst has been pushed back due to the short-term downturn the company is facing. Management is likely to focus on surviving and managing the now large indebtedness rather than unlocking increases in shareholder value through a separation from these near-term businesses.
Risks
The risks of avoiding an investment in TEN include the potential for management to seek cash from a variety of sources, including the sale of assets, which would strengthen the balance sheet and enable the company to meet its short-term debt service obligations. However, while this may cause stock values ​​to jump in the short term as the prospect of bankruptcy fades, I would find this unfavorable as a longer-term investor, as the growth outlook for the business over a longer investment horizon are diminishing with the unloading of assets today. .
Additionally, TEN management could seek corporate or business development partnerships that inject cash up front in exchange for longer-term revenue share from the auto parts business. During the bull market of the past decade, I would have considered this a likely possibility, but in today's market environment where cash is king, I find such an arrangement relatively unlikely.
Conclusion
TEN is too leveraged and equity investors are not facing a good risk/reward ratio at its current levels. Long-term investors should view the likelihood of bankruptcy as extremely likely and should avoid short-term action, at least until the balance sheet is clearer. Good luck to everyone.